Everest Base Camp Trek
Trek to Everest Base Camp is an amazing adventure in Nepal's Khumbu region. We can not express by words but if you are going to do it, then you will feel yourself. It begins in Lukla, a small town at 2,860 meters (9,383 feet). Lukla is the start point for Everest treks and is in the Himalayas. It's a charming place with a lot of energy.. From Lukla, trekkers venture towards the iconic Everest Base Camp, situated at an altitude of 5,364 meters. It is the place where mountaineers prepare for their ascent to the roof of the world, Mount Everest (8848 m).
---
Everest Base Camp Trek Duration
Everest Base Camp Trek Duration
The entire Everest Base Camp Trek covers approximately 130 kilometers (80 miles) round trip and typically lasts for 12-16 days, depending on the itinerary and the pace of the trekking group. The path is an exciting journey. It goes to Everest Base Camp. It goes through old Sherpa villages. It goes by holy monasteries. It shows how Himalayan people live. It lets trekkers catch a glimpse of the extraordinary way of life of the people living in the Himalayas.. Along the way, one can marvel at the towering peaks of Ama Dablam, Lhotse, and Nuptse, among others, creating a breathtaking backdrop that leaves trekkers in awe. When it comes to the cost of the Everest Base Camp Trek, it can vary depending on factors such as the duration of the trek, level of comfort desired, number of guides and porters, and the chosen trekking agency. On average, the cost of Everest Base Camp Trek ranges from USD1,200 to USD2,500 per person. This tentative cost includes permits, accommodations, meals, and transportation. When you want to go trekking, remember to do some research. Choose a good trekking company that cares about safety and the environment. Make sure they have experienced guides too. This way, your trek will be fun and safe.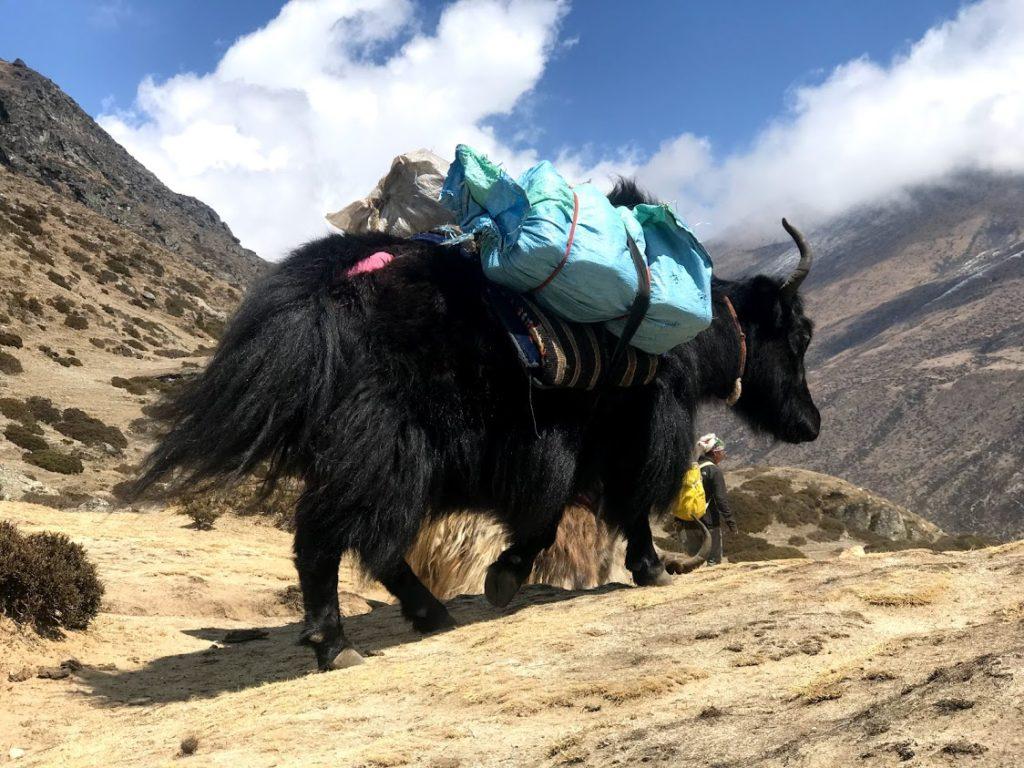 ---
Everest Base Camp Trek Permits
To undertake the Everest Base Camp Trek, trekkers need to obtain two main permits: the Sagarmatha National Park Permit and the TIMS Card. The Sagarmatha National Park Permit is a mandatory to all visitors including nepali tourist, porters and guides for entry into the Sagarmatha National Park. Since 1979, This park is classified in the Nature heritage of UNESCO World Heritage Site known for its rich biodiversity. Sagarmatha National Park is specially to protect the Musk Deer which are endangered. The entrance permit of Sagarmatha National Park will be issued at the costs approximately $30 per person basis and can be obtained either in Kathmandu by Glacier Family Treks or at the entrance to the park in Monjo which will be issued by your Trekking Guide, along the trekking route. The TIMS Card which we can say Trekkers' Information Management System, is another required permit for this trekking. TIMS Card helps to track the trekkers and ensures their safety during the trekking in the particular area. The TIMS Card costs around $20 per person and Glacier Family Treks is authorized Local Trekking Company to issue your TIMS Card after paying certain service charge. So, none of Trekking Agency or Local Agent provide it in free of cost.

In addition to Everest Base Camp Trek permits, trekkers are also subject to a Pasang Lhamu Rural municipality tax each person NPR 2000/- per person, depending on the specific municipality in the Khumbu region. This tax contributes to the local infrastructure development and the preservation of the natural environment.
---
Everest Base Camp Trek for Beginners
Everest Base Camp Trek is a challenging trekking everyone. Thats why, we need to get physical fitness, physically ad mentally more endurance. While it is possible for beginners to complete this Everest Base Camp Trek, it is important to understand the difficulties of the entire route and nature. .

The Everest Base Camp Trek takes us through high altitudes, with Everest Base Camp itself located at an altitude of 5,364 m. The main challenge for beginners is climbing too fast into higher and higher places. When we climb everyday, the altitude becomes more severge , which can lead to altitude illnesses or sickness such as acute mountain sickness (AMS). So, to avoid altitude sickness, each and every trekkers should acclimatize sufficiently which assures or helps our body to be adjusted into the thin air gradually.

The terrain can also be demanding, with steep ascents and descents, rocky paths, and occasionally icy or snowy sections, particularly in the winter months. Walking for several hours a day during Everest Base Camp Trek, often at high altitudes, can be physically taxing, so it's important to have a reasonable level of fitness and be prepared for the physical exertion.

Prior hiking experience is helpful, but not mandatory for Everest Base Camp Trek. Regular exercise of cardiovascular, some hiking habits, cycling, can help us to improve our overall fitness.
Everest Base Camp Trek is advisable for beginners to engage in a proper training program before attempting the Everest Base Camp Trek. This may include aerobic exercises, strength training, and hiking or trekking on hilly terrains to simulate the conditions you'll encounter during the trek. Additionally, consulting with a healthcare professional or a travel medicine specialist is recommended to assess your fitness and discuss any potential health concerns.
---
Everest Base Camp Trek Itinerary
Here's an itinerary of Everest Base camp trek for beginners–

Day 1: Arrival in Kathmandu, transfer to Hotel.

Arrive at Tribhuvan International Airport in Kathmandu.
Transfer to your hotel.
Attend a trek briefing and prepare for the trek.
Overnight stay in Kathmandu.

---

Day 2: Fly to Lukla, trek to Phakding

Take an early morning flight from Kathmandu to Lukla (about 35 minutes).
Begin trekking from Lukla to Phakding (2,610m).
Trek duration: approximately 3-4 hours.
Overnight stay in Phakding.

---

Day 3: Phakding to Namche Bazaar

Trek from Phakding to Namche Bazaar (3,440m).
Trek duration: approximately 6-7 hours.
Overnight stay in Namche Bazaar.

---

Day 4: Acclimatization day in Namche Bazaar

Take a rest day to acclimatize to the high altitude.
Optional hike to Everest View Hotel for panoramic views.
Explore the local market and visit the Sherpa Museum.
Overnight stay in Namche Bazaar.

---

Day 5: Namche Bazaar to Tengboche

Trek from Namche Bazaar to Tengboche (3,870m).
Trek duration: approximately 5-6 hours.
Visit Tengboche Monastery, the largest monastery in the Khumbu region.
Overnight stay in Tengboche.

---

Day 6: Tengboche to Dingboche

Trek from Tengboche to Dingboche (4,360m).
Trek duration: approximately 5-6 hours.
Enjoy stunning views of Ama Dablam and other peaks.
Overnight stay in Dingboche.

---

Day 7: Acclimatization day in Dingboche

Another rest day for acclimatization.
Optional hike to Nagarjun Hill for panoramic views.
Overnight stay in Dingboche.

---

Day 8: Dingboche to Lobuche

Trek from Dingboche to Lobuche (4,940m).
Trek duration: approximately 5-6 hours.
Witness the Khumbu Glacier and surrounding peaks.
Overnight stay in Lobuche.

---

Day 9: Lobuche to Gorak Shep, hike to Everest Base Camp

Trek from Lobuche to Gorak Shep (5,170m).
Continue hiking from Gorak Shep to Everest Base Camp (5,364m).
Explore the Everest Base Camp and enjoy the breathtaking scenery.
Trek duration: approximately 7-8 hours.
Return to Gorak Shep for overnight stay.

---

Day 10: Hike to Kala Patthar, descend to Pheriche

Early morning hike to Kala Patthar (5,545m) for sunrise views of Mount Everest.
Descend to Pheriche (4,240m) after the hike.
Trek duration: approximately 7-8 hours.
Overnight stay in Pheriche.

---


Day 11: Pheriche to Namche Bazaar

Trek from Pheriche to Namche Bazaar.
Trek duration: approximately 6-7 hours.
Celebrate the completion of the trek in Namche Bazaar.
Overnight stay in Namche Bazaar.

---

Day 12: Namche Bazaar to Lukla

Trek from Namche Bazaar to Lukla.
Next day fly back to Kathmandu, Check in your hotel.
And, final departure on following day from Nepal.
---
Everest Base Camp Trek Package Cost
The cost of an Everest Base Camp trekking package can vary depending on several factors such as the duration of the trek, the level of service and accommodation, the season, the size of the group, and the trekking agency you choose.

On average, a standard 12 to 16-day Everest Base Camp trekking package can cost anywhere between $1,550 to $2550 per person. This cost usually includes services like airport transfers, domestic flights to Lukla (the starting point of the trek), trekking permits, experienced guides and porters, accommodation in tea houses or lodges along the trail, meals during the trek, and some additional services like a trekking map, first aid kit, and basic equipment.

Anyway, it's better to know that this cost is just an estimation of Everest Base Camp Trek, and the actual cost can be varied. If you prefer more luxurious accommodations or want additional services, the cost may be higher. Additionally, prices can change over time, so it's best to check with reputable trekking agencies or tour operators for the most up-to-date pricing information.

If you go through above program and itinerary of Everest Base Camp Trek, It can be best price in this number of pax for above duration-

Number of Pax: Cost in USD Per person basis:
00-01 Pax : USD1585.00
02-05 Pax : USD1550.00
05-08 Pax : USD1490.00
06-09 Pax : USD1450.00
07-10 Pax : USD1380.00
08-12 Pax : USD1320.00
10-14 Pax : USD1280.00

---
Above cost inclusion-Exclusion-
The inclusions and exclusions in an Everest Base Camp Trek package cost can vary depending on the provided services or tour operator you choose. However, here are some common inclusions and exclusions:
---
Cost Included on the given cost-
International flights: The cost of international flights to and from Kathmandu is generally not included.
Travel insurance: It is highly recommended to have travel insurance that covers emergency medical evacuation, trip cancellation, and other potential risks. This cost is usually not included in the package.
Accommodation in Kathmandu: The cost of accommodation in Kathmandu before and after the trek is typically not included.
Meals in Kathmandu: The package usually covers meals during the trek, but meals in Kathmandu are usually excluded.
Personal expenses: Expenses for additional snacks, drinks, hot showers, charging electronic devices, Battery Charging, Wi-Fi, and any other personal items or services are generally not included.
Tips: It's customary to tip your guide and porters as a gesture of appreciation. The tipping amount is not usually included in the package cost. It's essential to clarify the inclusions and exclusions with the trekking agency or tour operator you are considering to ensure you have a clear understanding of what is covered and what is not before booking the trek.
---
And, those things which are not mentioned in the section of cost exclusion!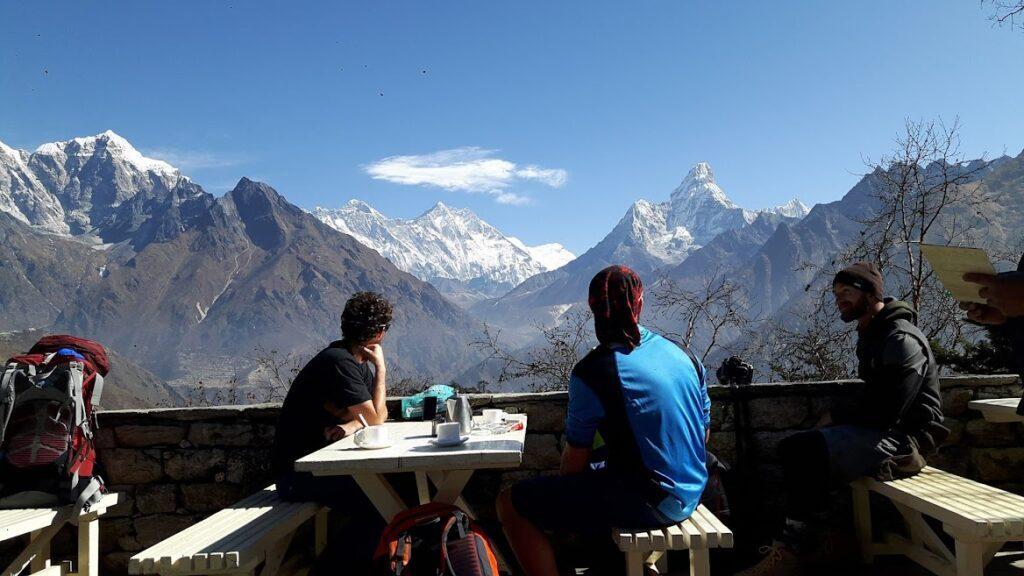 Overall, while the Everest Base Camp Trek is challenging for beginners, it is not impossible. With adequate preparation, training, and a cautious approach to altitude, many beginners have successfully completed the trek. However, it's the best idea to listen and feel your body and understand your physical capabilities in the altitude.
Everest Base Camp Trek Guide Porter
While starting on the Everest Base Camp Trek is possible without a guide and porter, it is highly recommended to hire their services, especially for those with limited trekking experience. Your experienced guide is not only for showing you the trekking trail in the terrain but he plays also vital role in the group. Sharing about local culture, local traditions, and history of the region, are explained. They work as a bridge to connect or exchange the local information between trekkers and the local community.
Best season for Everest Base Camp Trek
The best seasons for the Everest Base Camp Trek are autumn (September to November) and spring (March to May). During these periods, the weather is generally stable, with clear skies, moderate temperatures, and less chance of rainfall or snowfall. The clean and colorful air of autumn season makes more popular choice among trekkers – it is the AUTUMN season. While the spring season offers pleasant weather, clean blue-sky and charming bloomed rhododendron flowers in all the forests. During these seasons, we feel quite good temperature with comfortable day time temperatures like 10-20°C in the lower elevations. However, it is important to note that temperatures drop very fast at higher places where the altitude is also higher during the night, it means it reaches below freezing levels.

For those seeking a less crowded experience, trekking during off-peak seasons such as late February to early April or late September to early November is recommended. During these times, the trails are relatively quieter, allowing for a more serene and intimate connection with the surroundings. Trekkers can enjoy the tranquility of the mountains in calm nature with beautiful views of giant mountains.
---
Temperature of Everest Base Camp Trek
Understanding the climate and temperature variations in the Everest region is very important for a successful and enjoyable Everest Base Camp Trek. Autumn offers mild temperatures during the day (10-20°C) with colder nights and higher altitudes dropping below freezing. Spring brings pleasant weather (10-15°C) with warmer temperatures as the season progresses. Nights can still be chilly, especially at higher elevations. Winter entails cold temperatures (-5 to 5°C) and heavy snowfall, creating a winter wonderland but also posing challenges in terms of colder conditions and closed passes. Summer or the monsoon season (June to August) brings higher humidity, frequent rainfall, and occasional thunderstorms. Daytime temperatures range from 15-25°C) at lower altitudes, while nights are generally mild. It is important to be prepared for the possibility of leeches, mosquitoes, and muddy and slippery trails during this season.

Safety considerations are paramount when undertaking the Everest Base Camp Trek. It is essential to consult with healthcare providers, undergo medical check-ups, and familiarize oneself with the symptoms of altitude sickness. Acclimatization days during the trek are crucial to allow the body to adapt to higher altitudes gradually. Adequate travel insurance that covers high-altitude trekking and emergency evacuation plans are highly recommended. It is also important to follow the guidelines and advice of experienced guides, stay hydrated, maintain a steady pace, and listen to one's body throughout the journey.
---
Everest Base Camp Trek Cost
The cost of the Everest Base Camp Trek can vary depending on various factors, including the duration of the trek, the type of package or services chosen, and the season in which you plan to trek. Here are some key components that contribute to the overall cost:
Trekking Permits: You will need to obtain permits to enter Sagarmatha National Park and the Everest region. The cost of these permits can vary for foreigners and nationals of SAARC countries.
Guide and Porter: Hiring a guide is highly recommended, especially for beginners, as they can provide support, knowledge, and assistance throughout the trek. Porters can also be hired to carry your heavy backpack, easing the physical burden. The cost of guides and porters typically includes their wages, meals, accommodation, and insurance.
Accommodation: Along the trekking route, there are teahouses or lodges where you can stay overnight. The cost of accommodation varies depending on the location and the services provided, ranging from basic rooms to more comfortable options with attached bathrooms.
Food and Water: You will need to budget for meals and water during the trek. Prices for food and water increase as you ascend higher due to the logistics of transporting supplies to remote areas.
Transportation: The cost of transportation to and from the starting point of the trek, usually Lukla, needs to be considered. This includes flights or bus rides from Kathmandu to Lukla and back.
Gear and Equipment: If you don't have your own trekking gear, you may need to rent or purchase items such as trekking boots, down jackets, sleeping bags, and trekking poles. These costs can vary depending on the quality and duration of rental.
Miscellaneous Expenses: Other expenses may include travel insurance, visa fees, snacks, drinks, hot showers, Wi-Fi, charging facilities, and optional activities like helicopter tours or side treks.

---
It's important to note that prices can fluctuate depending on the time of year. The peak trekking seasons of spring (April-May) and autumn (September-November) tend to be more expensive due to higher demand.

The estimated cost of Everest Base Camp Trek for a 12 to 16-day Everest Base Camp Trek can range from around $1,500 to $3,500 per person, excluding international flights and personal expenses. It's advisable to research and compare prices from different trekking agencies or tour operators to find a package that suits your budget and requirements.

This comprehensive guide equips trekkers with the necessary information to plan their journey, including insights into the starting and ending points, cost calculations, permit acquisition, best seasons, and safety considerations. With proper preparation, respectful engagement with the environment and local culture, and an adventurous spirit, trekkers can embark on an unforgettable experience in the Everest region, forging lifelong memories and a deeper connection with the majestic Himalayas.

---

For more details and information about Everest Base Camp Trek, please kindly contact us through-
Email: info@glacierfamilytreks.com or, trekkers.guide@gmail.com
WhatsApp: +9779818727219 (Dilu Rai)
Glacier Family Treks & Expedition