Annapurna Circuit Trek
The Annapurna Circuit Trek is poplar trekking in entire Nepal. It's one of the best trekking destination in the world, too. It's situated to the North-West of Nepal. This Annapurna Circuit Trek offers a breathtaking views of Annapurna mountain chain, Some parts of Manaslu Mountain chain, and Dhaulagiri mountain chain. Not only that but it offers some charming villages, waterfalls, beautiful valleys, Buddhist Monastery, Chorten, High Passes like Thorong La Pass, mind-blowing lakes like Tilicho Lake, and diverse landscapes with beautiful river Marshyandi.

Starting from Kathmandu to  Besi Sahar by public or private vehicle then, drive to Bahundanda in  the day by hiring a Jeep or getting regular public bus, Annapurna Circuit Trek takes you on an incredible journey that circumnavigates the Annapurna Massif, which is home to some of the world's highest peaks. The Annapurna Circuit Trek covers approximately 200 kilometers but it was the Classic Annapurna Circuit Trek. At the time, people used to start it from Dumre on foot to Besi Sahar, Bubule, Taal, Chame and ahead. Today, we can finish it in 10-1 days by Jomsom.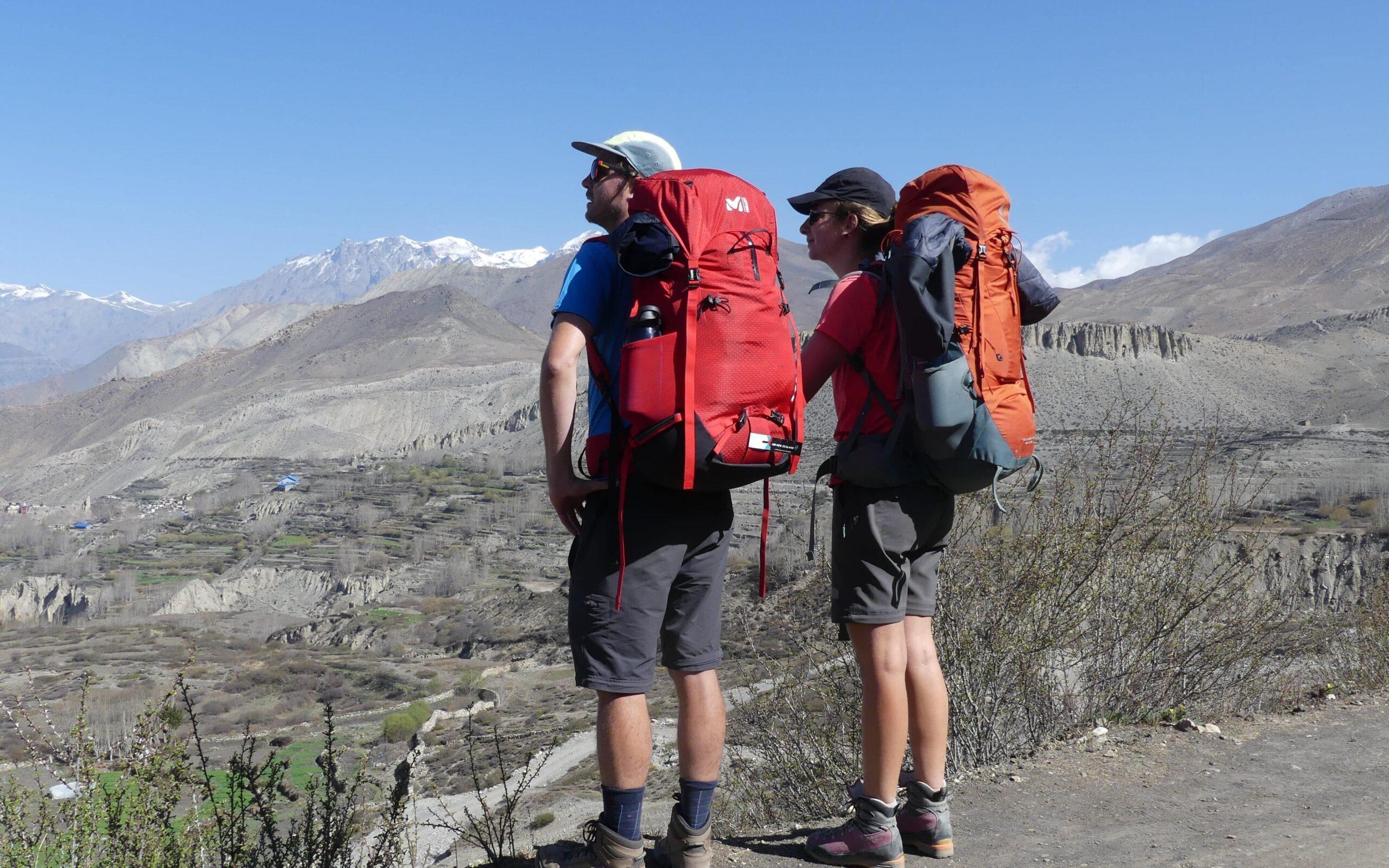 The Annapurna Circuit Trek begins in lowland villages surrounded by terraced fields and subtropical forests. When we climb higher, each day makes us feeling that we are in higher elevation with chilled air. The Marsyangdi River and multiple suspension bridges that add an element of enjoyment of our trekking. 

One of the highlights of the Annapurna Circuit Trekk is the Tilicho Lake. It is situated in about 4,919 meters from the sea-level. The emerald waters of the lake, is situated just underneath the giant Tilico Peak (7134 m), create a serene and magical atmosphere. The Tilicho Lake is the highest lake in the world. Hiking to Lake Tilicho is one of best hiking in Annapurna area offers stunning views of the Annapurna range and the surrounding glaciers as well as stunning view of Manslu (8163 m) and Himalchuli Peak )7893 m).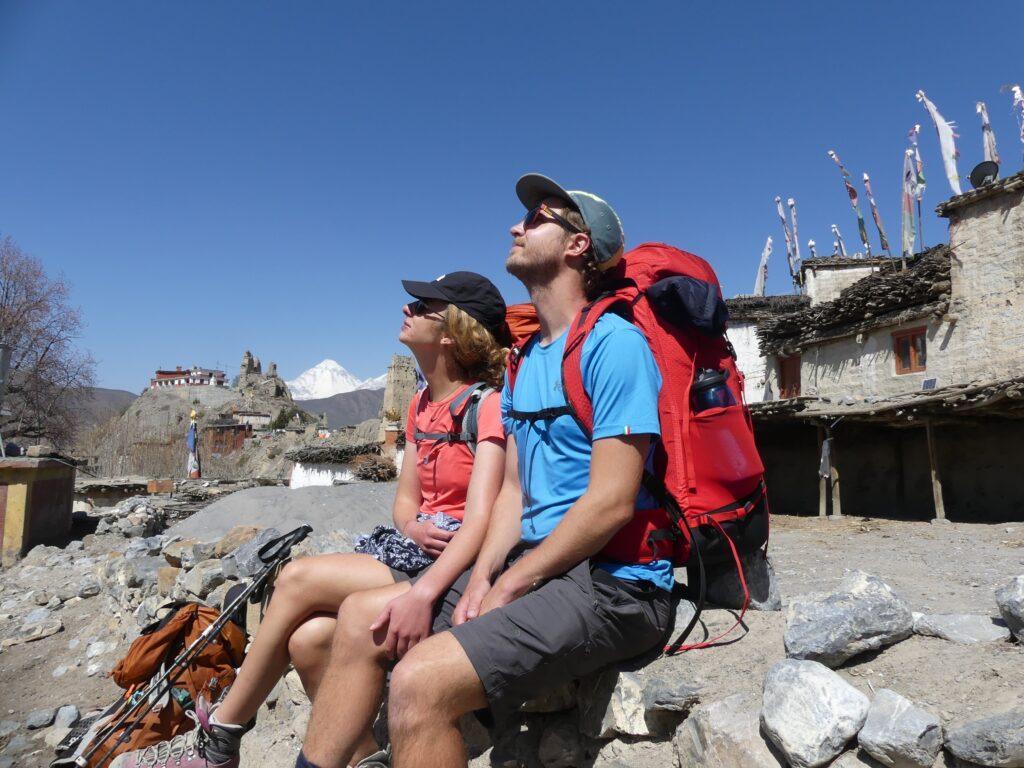 ---
Annapurna Circuit Trek Itinerary
Day 1:

Meet in Kathmandu and drive to Besisahar and drive to Bahundanda.

Take an adventurous drive from Kathmandu to Besisahar (approximately 6-7 hours).

Continue the journey by jeep or local transport to Bahundanda (around 2-3 hours).

Stay overnight in Bahundanda in a lodge or tea house.

---

Day 2: Bahundanda to Jagat.

Trek through beautiful landscapes, crossing suspension bridges and passing waterfalls.

Pass through the village of Syange and continue to Jagat.

Enjoy views of the Natural Waterfalls.

Stay overnight in Jagat.

---

Day 3: Jagat to Dharapani.

Trek through dense forests and cross a few streams.

Pass through the villages of Tal and many more along the Marshyangi River. Reach to Dharapani, today we quite Lamjung district and enter in Manang District. Views of Serene Himal and Manaslu Range- Nadi Chuli, Harka Peak. Stay overnight in Dharapani.

---

Day 4: Dharapani to Chame.

Passing through the Bagarchhap, Views of Annapurna III and Lamjung, Travers dense of forest,  and, Chame- The capital city or headquarter of Manang District.

---

Day 5: Pisang to Manang.

Choose between the upper route (Ngawal) or lower route (via Humde) to reach Manang.

Enjoy breathtaking views of Annapurna, Gangapurna, and other peaks.

Explore the village of Braga and visit the ancient Braga monastery.

Reach the village of Manang, known for its Tibetan influence.

Stay overnight in Manang.

---

Day 6: Acclimatization day in Manang

Spend a day keeping hiking aboud the city and mountain to get more acclimatizing to the high altitude.

Take short hikes to nearby viewpoints for panoramic mountain views.

Explore Manang village and interact with locals.

Learn about local culture and visit the Himalayan Rescue Association clinic.

Stay overnight in Manang.

---

Day 7: Manang to Yak Kharka.

Trek through alpine landscapes and cross the Jarsang Khola.

Ascend gradually to Yak Kharka, a grazing pasture for yaks.

Enjoy the scenic beauty and mountain views along the way.

Stay overnight in Yak Kharka.

---

Day 8: Yak Kharka to Thorong Phedi/Thorong High Camp

Continue ascending towards Thorong Phedi/Thorong High Camp, the base of the Thorong La Pass.

Trek through alpine meadows and steep trails.

Enjoy stunning views of the surrounding mountains.

Reach Thorong Phedi, a small settlement with basic accommodations.

Stay overnight in Thorong Phedi/Thorong High Camp.

---

Day 9: Thorong Phedi/Thorong High Camp to Muktinath via Thorong La Pass.

Start early in the morning to cross the challenging Thorong La Pass (5,416 meters).

Trek uphill through snowy terrain and rocky trails to the pass.

Breathtaking views of the Annapurna range and Dhaulagiri ranges to the left and right edge of the road.

Descend steeply to reach Muktinath, a sacred site for both Hindus and Buddhists.

Stay overnight in Muktinath.

---

Day 10: Muktinath to Jomsom.

Explore the Muktinath temple and its surrounding area.

Descend through arid landscapes and barren hills.

Walk via the bank of Kali Gandaki River to get Jomsom.

Experience the strong winds that blow through the Kali Gandaki valley.

Stay overnight in Jomsom.

---

Day 11: Jomsom to Pokhara

Take a scenic morning flight from Jomsom to Pokhara (around 20 minutes).

Enjoy the aerial views of the Annapurna and Dhaulagiri ranges.

Spend the day exploring the beautiful lakeside city of Pokhara.

Relax, shop for souvenirs, or enjoy boating on Phewa Lake.

Stay overnight in Pokhara.

---

Day 12: Pokhara to Kathmandu.

Drive or fly back to Kathmandu from Pokhara (approximately 7-8 hours by road or 25 minutes by flight).

Enjoy the scenic journey and reflect on the memorable trekking experience. Transfer to your hotel.

The best idea of this itinerary is a general guideline only, but the real duration of the day hiking and specific details may be varied depending on individual preferences, efforts, fitness level, and weather conditions. It's always recommended to consult with a local trekking agency or guide to tailor the itinerary to your specific needs, requirement and obtain up-to-date information before heading on the trek.

---

Annapurna Circuit Trek Cost

On average, the cost ranges from $800 to $1550 per person. 
For 00-01 People: US$1550.00
For 00-02 People: US$ 1450.00
For 01-03 People: US$ 1250.00
For 01-04 People: US$ 1160.00
For 05 and more People, please contact us.
For the cost and service details, kindly keep in contact with us-

Email: info@glacierfamilytreks.com (Official)

WhatsApp: +9779818727219 (Dilu Rai)

---
Above given Annapurna Circuit Trek Cost includes:
12 days trekking on full board plan (Breakfast/Lunch/Dinner)
 Tea/Cuffee during the meal (Three times on cup basis)
Local accommodation in local tea houses
ACAP (Annapurna Conservation Area Permit)
TIMS Card (Trekkers' Information Management System)
Experienced & Trained English Speaking Trekking Guide (If you look/need for your own language spoken trekking guide, will cost extra more so, please keep contact us in advance)
1 client 1 porter (Maximum weigh 15 kilos of luggage) if there is a single trekker.
1 porter for 2 clients (Maximum weight 20 kilos for one porter only)
Local insurance of guide and porter
Guide and Porter Food, transportation, accommodation and salary during the trek
Public bus/microbus service: From Kathmandu to Besi Sahar then again, public bus from Besi Sahar to Bahundanda
1 night hotel in Kathmandu with breakfast
Tourist Coach Service from Pokhara to Kathmandu.
Airport Service: Pick up and Drive
1 night hotel in Pokhara with Breakfast
Above cost does not include:
Airport transfers, guided sightseeing in Kathmandu, and meals (excluding one breakfast) are included in the package.
Emergency Evacuation and Rescue
Transportation in Pokhara and most meals during the trek are covered, except for beverages such as coke, fanta, and mineral water.
Hot showers and access to hot water during the trek are provided.
Personal expenses such as travel insurance, laundry service, phone calls, and internet are not included.
In case of an emergency, there may be a rescue operation charge.
An advance deposit transfer fee is required to book your trip.
It is customary to show gratitude and provide tips for your guide and porter.
Your travel insurance, Nepal Visa, International Flight etc
And, those things which are not mentioned above
---
Annapurna Circuit Trek Permit Cost
ACAP (Annapurna Conservation Area Project) US$ 30.00 per person.
TIMS (Trekkers' Information Management System) US$ 20.00 per person.
---
Annapurna Circuit Trek Permit
ACAP (Annapurna Conservation Area Permit) Permit: The ACAP is a mandatory permit for entering the Annapurna Conservation Area, which is a protected area encompassing the entire Annapurna region. The permit fee contributes to the conservation and sustainable development of the region. You can obtain the ACAP from the Nepal Tourism Board's office in Kathmandu or Pokhara or from the checkpoint at Besi sahar, the starting point of the Annapurna Circuit Trek.

---
TIMS Card (Trekkers' Information Management System): The TIMS Card is another essential permit for trekkers in Nepal. It helps to ensure your safety and provides valuable information to the authorities regarding trekkers' activities and whereabouts. Since April 1st 2023, NTB (Nepal Tourism Board) is allowed to contribute TIMS Cards to trekkers directly. So, all of trekkers should go through a registered trekking agency like us – Glacier Family Treks & Expedition.
---
Guide and Porter cost for Annapurna Circuit Trek
When trekking the Annapurna Circuit, it is common to hire a guide and porter to enhance your trekking experience. The cost of hiring a guide and porter can vary depending on factors such as duration, services provided, and negotiation skills. The cost for a licensed guide ranges from $25 to $35 per day, while a porter can cost around $25to $28 per day. The cost usually includes their wages, accommodation, meals, and insurance.. Negotiating the cost and clarifying the services included in advance is advisable to ensure a mutually beneficial arrangement.
As an authorized and registered company-  Glacier Family Treks is committed to ensuring the safety and satisfaction of our clients. We have a team of experienced and knowledgeable trekking professionals who are well-versed in the intricacies of the Annapurna Circuit Trek.
Please, do contact us by:
Glacier Family Treks & Expedition

Official email: info@glacierfamilytreks.com

WhatsApp: +9779818727281